This is how i tank.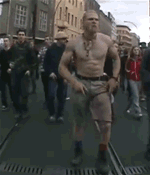 ---
That's hot.
Veela
Bishop via Guild Banker | Sawbones | Black Magic Internet Witch
---
I've seen vids of that guy online before! Can't remember what they call him, like the Metal Viking, or Rock n' Roll Viking or some crap like that.

Anyway, im on D3 as well. Level 19 Monk methinks. Not sure how competetive folks are or they are even doin any PVP type stuff, never done any of it before except the regular storylines.

**Edit** Battle.Net name is Marrkin#1718 f anyone wants to add me!
---
Priest
Posts: 85
Joined: Sun Jul 31, 2011 12:10 am
Location: Ontario, United Provinces of Canada
Ah, Techno Viking. You crazy, silly bastard.
---
So I finally bought this, PS4 version.
---
Dangit, I am broke as hell right now lol...
If Destiny wasn't paid off already, I wouldn't even be pickin that up on time.
Maybe I can grab D3 around the 12th
---
Bought it. Like it. Kinda old school, button mashing fun.
Cuspar
---